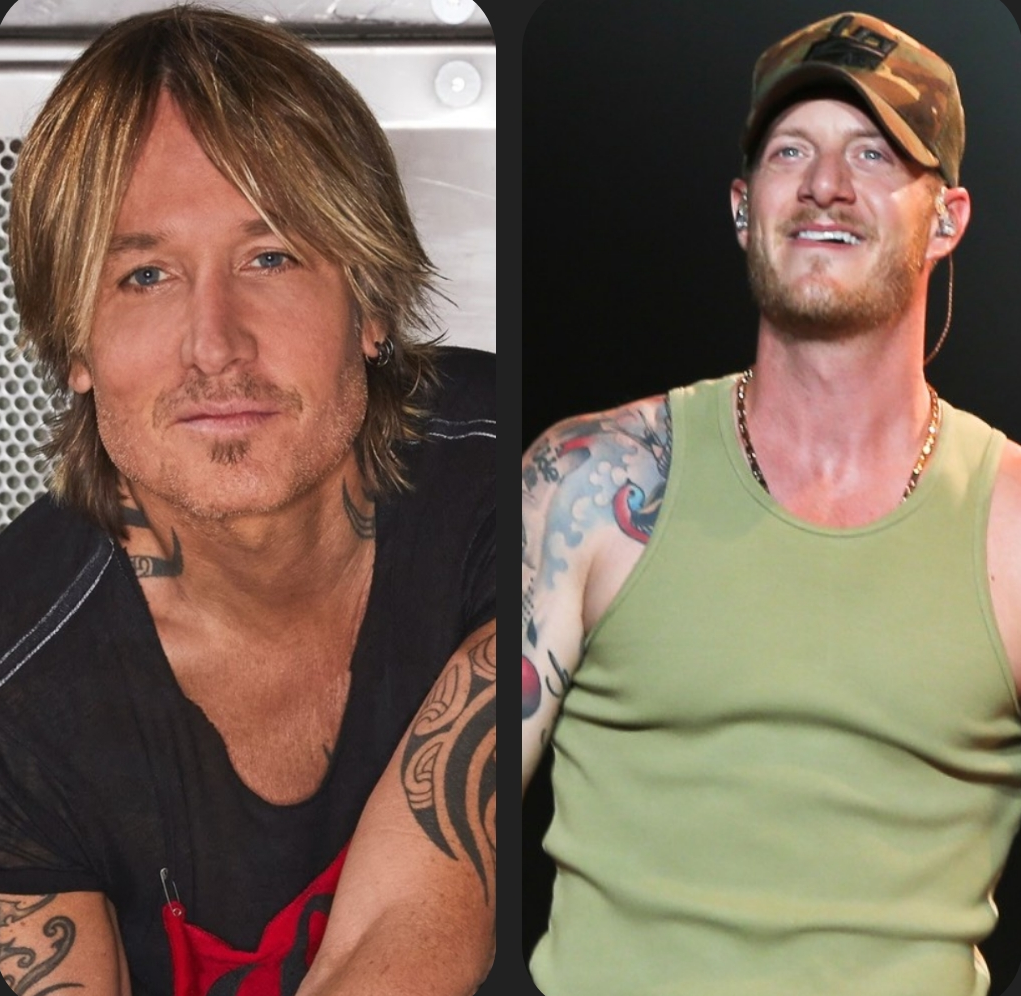 Keith Urban just announced that Tyler Hubbard will join him, beginning in September, for his The Speed of Now World Tour. While Urban is a fan of Hubbard as a person and a musician, he is also a fan of him as a writer, which means there is a good chance there will soon be a few co-writes happening between the two men.
"First of all, I've always loved [Tyler's] voice," Urban tells Apple Music Country's Today's Country Radio with Kelleigh Bannen. "We got to write together a few months ago for the first time, and we wrote a song that he ended up recording that I'm very excited about. And it was really great being in a writing room with him. I was curious about his process and his way of approaching things. And I was really impressed with his compositional skills as a writer. He's really, really good."
Urban is known to excel at songwriting already, both in lyric and melody, but even he was blown away by Hubbard's abilities.
"That's a good example of a day where I brought in an idea and Tyler had this complete other idea," Urban recalls. "[He] had the title. And so, then we just start jamming music and melodies and riffs and things, and this song emerges out of it. So, I loved it. I hope we get to do more of that."
Urban announced that Hubbard would be joining his tour, in a video shared on social media.
We've got a new member joining @IngridAndress and I on our crazy circus starting in September…welcome to the tour brother !!!! @tylerhubbard

Tickets and details:https://t.co/E4PaHvw0JT #TSONworldtour pic.twitter.com/sGzXvWRK7m

— Keith Urban (@KeithUrban) July 12, 2022
"We are on a tour bus, right now," Urban announced. "We are out on The Speed of Now World Tour, Ingrid Andress and me and the band. We're going to be playing all of the way through this year. But in September, we're going to bring somebody else out to join us on this tour. I'm very, very excited to let you know right now that Tyler Hubbard is going to be joining us on The Speed of Now Tour in September. Tyler, we love you. We can't wait to see you out on the road."
Hubbard also spoke out about his excitement of joining Urban, in a video he shared on social media.
"I have been invited by one of my longtime heroes and good buddies at this point, Mr. Keith Urban, to go and join him and Ingrid Andress on his tour in the fall," Hubbard said. "They're out currently rocking the world right now, and I've seen the show, seen the tour, and it's amazing. So to be asked to be on that tour with them is just incredible. I can't wait to get out, play some new songs for you guys, hang out, share a stage with Keith and Ingrid."
Hubbard previously hinted that he would love to join a big tour as a solo artist, after spending years as one-half of  Florida Georgia Line. The duo, which also includes  Brian Kelley, has a few more dates on the calendar together, before they go their separate ways, and work on their solo careers.
"We're going to kind of use that as an opportunity to celebrate and to close the chapter for ourselves and for the fans and gear us up for what's next," Hubbard shared with Everything Nash and other outlets, during a virtual media event. "But I definitely plan on touring this new music. I'm probably going to be out in the fall and then definitely next year in the next year, going to hit it hard. I really miss being on the road and playing shows, so I'm so excited to get back. I've told my team, 'Put me anywhere that will have me. Let's start small and play some clubs and sell some clubs out.
"So I look forward to kind of going back and doing some of that ,and maybe I can get on a big tour and support a bigger act and do an opening slot again, which would also be fine just to kind of take me back," he added. "But we're building this thing one fan at a time, one stage at a time, and I'm excited to get back out and start working."
All of Urban's The Speed of Now World Tour dates are available here.