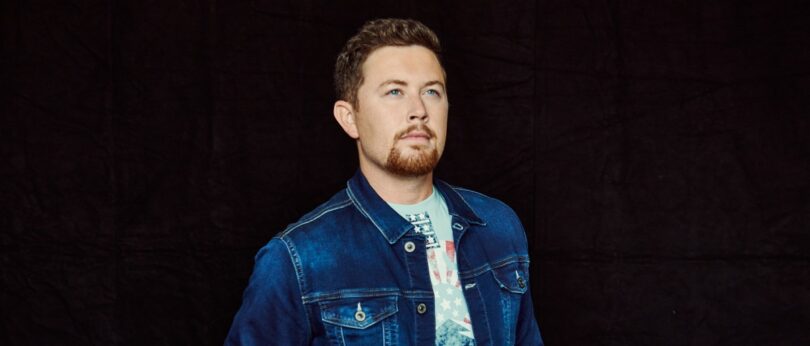 Scotty McCreery's Same Truck album, out now, is filled with 12 songs he co-wrote, sharing a new side of him as an artist, songwriter and person, a decade after he burst onto the country music scene by winning Season 10 of American Idol. Of all the songs on the record, including his recent No. 1 hit, "You Time," and his current single, "Damn Strait" it's the final track on the project, "How Ya Doin' Up There," that is perhaps the most poignant look at McCreery's abilities to craft a well-written and emotionally-charged song.
Written by McCreery, along with Monty Criswell, Derek George, Tyler Reeve, the North Carolina native says the idea was born from reflecting on his own strong Christian faith.
"To me, my faith is a humongous part of my daily life," McCreery tells Everything Nash. "I lean on it every single day, and pray every single day. And if we're being honest, most of our prayers are always asking, 'Hey, can You do this for me? Can You do this for me, man? I need help here,' which is great.  But just the perspective of asking God how He's doing, 'cause I would think in the last year or so, He's just been up there, shaking his head, looking down at everything, all the craziness going on. I just had never heard that perspective of a prayer before, and I thought it was so cool. To me, it's a pretty powerful song to end the album with."
McCreery has never been shy about HIs faith, which he says is the cornerstone of his entire life and career.
"Faith is something I lean on every day," McCreery shares. "My faith is based on hope,  and the hope I have in Christ, and life after all this. I just try and spread that hope to people every day. It's tough when things are so scary out there, I mean, it's not an easy message to spread or to lean on, but I don't really know how I would've made it through this last year without that hope."
Same Truck is McCreery's fifth studio album, and the most personal set of tunes he has ever released.
"I had the time to really sit back and reflect, and think about things that are important to me, really for the first time, since I was 15 or so," McCreery tells Everything Nash. "I had that time to do that. I think that put me in that mindset for writing some of these songs, and the perspective in some of these songs. My previous albums were very much more looking ahead. This one's being grateful and looking back, and taking it all in."
McCreery is currently on his You Time Tour. Find tour dates, and purchase Same Truck, at ScottyMcCreery.com.
Want to be the first to see exclusive artist interviews? Click HERE to subscribe to our YouTube channel.