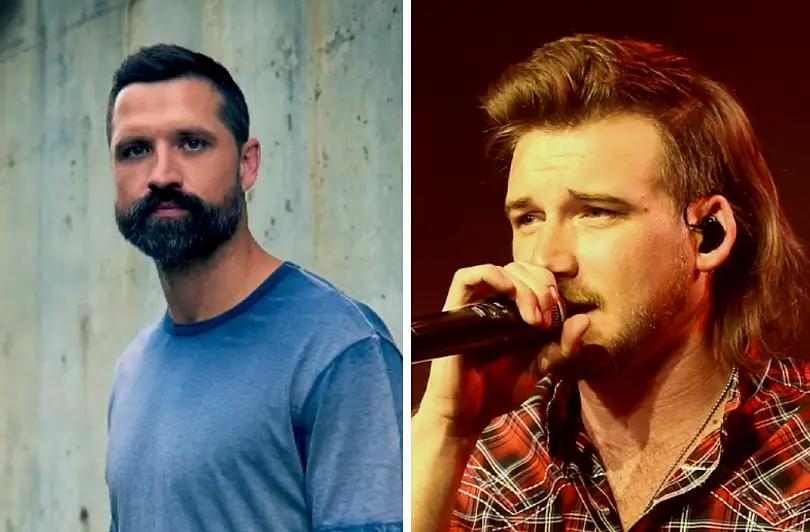 Morgan Wallen kicked off his The Dangerous Tour earlier this month with two sold-out shows at Madison Square Garden. The tour comes a year after Wallen has tried to rebuild his image, following a video that surfaced of him uttering a racial slur. While some, like Eric Church and Luke Bryan, have seemed ready to put the incident firmly in country music history, others have said he hasn't paid enough for his transgression.
Walker Hayes falls somewhere in the middle. While not trying to dismiss Wallen's hurtful words, the "Fancy Like" singer says that, in many ways, Wallen is no different than anyone else — including him.
"My greatest need, as a believer, is just continual mercy," Hayes tells Billboard. "I do not know [Wallen] personally, but I do know he is a gifted artist…… I love pretty much anything he puts out. His actions, they don't deter me from enjoying his music. I haven't really kept a close eye on what he's done to make amends for the trouble he got in. All I can say is I enjoy Morgan's music and obviously don't condone, and I don't want to perpetuate, racism by any means. I can understand if someone was like, 'Ah, too soon.'"
It's a message Hayes has been vocal about in recent years. The father of six has been outspoken about his Christian faith, which he says makes him no better than anyone else.
"I'm also the murderer down the street, murdering my brother with my thoughts," Hayes told Everything Nash. "I'm also the jealous artist watching another artist closely, hating him, but wanting to be better than him. I'm also the shortcoming parent blowing up at my kids for selfish reasons and having to apologize 3000 times. I'm just really aware right now of our shortcomings, as people, as humans –– how broken we are and how much we need a Savior.
"I don't know if that makes any sense, but that's kind of where I stand," he continued. "As far as my faith is concerned as a parent, I just see our need for something supernatural … We cannot fix the human condition. We cannot make hate go away, and that troubles me, but I also feel like it forces me to bow to the Savior, to God, and then crave His tenderness and His mercy and His compassion to save us."
Hayes just released his Country Stuff the Album record in January. He will also release his book, Glad You're Here,  with his friend, Craig Cooper, who inspired the song, "Craig." When Hayes first released the song, on his 2017 Boom album, the 42-year-old wasn't yet willing to talk about his growing faith, but he was willing to talk about his friend who gave his family a minivan when they were financially destitute.
"I thought I was super clever,' Hayes tells Everything Nash. "I didn't put Jesus' name in the song because look, I respected Craig and his love for us was otherworldly, and unconditional beyond any love we had ever received from humans. And it made me curious, like the song says. I was like, 'Man, I don't know. Maybe he does know Jesus.' And then I met the Lord; I met Jesus myself. And now I see that that was the light of Christ shining through Craig."
Hayes included the song again on his latest project, this time teaming up with MercyMe for the new version. And now, Hayes doesn't want to talk about much besides his faith.
"Honestly, I don't care about sharing anything else," Hayes tells Everything Nash. "To be quite frank with you, I don't think there's anything else worth sharing than what Jesus has done with me and the redemption I've experienced here on earth, and will continue to experience from knowing Him. That's it. That's why I wanna share my story."
Hayes is currently headlining his own Fancy Like Tour. Find tour dates, and purchase Country Stuff The Album, at WalkerHayes.com.