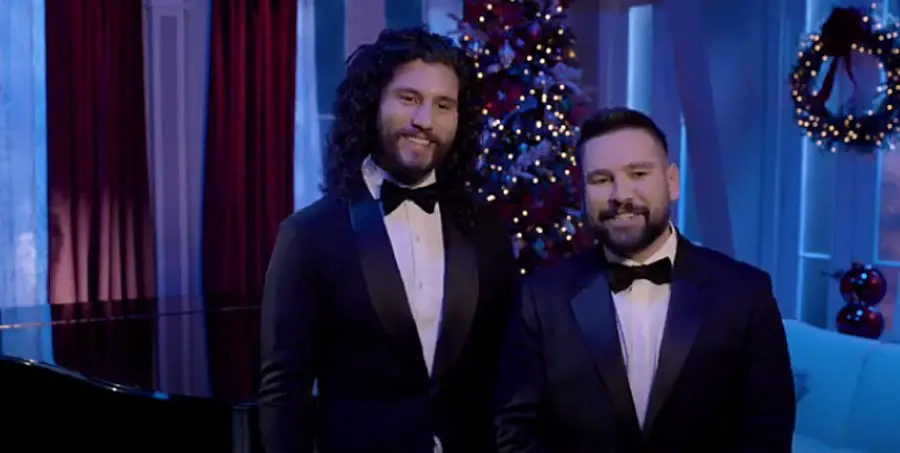 Dan + Shay released not one but two Christmas songs this year, both "Take Me Home for Christmas" and "Christmas Isn't Christmas." The songs were recorded and released because the duo, made up of Dan Smyers and Shay Mooney, both had the time to work on holiday music, since they weren't out on tour like they had planned. While the guys are, of course, eager to be on the road again, they shared a heartwarming message to their fans, about the unlikely Christmas season they, and everyone else, had in 2020.
"It's always been a dream of ours to to release Christmas music, but with the hectic touring schedule of a normal year, we've never been able to pull it off," Dan + Shay wrote. "Obviously things were a little different this year, so we felt it was a good time to give it a try. Now that we're here on the day after Christmas, looking back on the last few weeks, we just wanted to say thank you all so much for everything you have done for us on "Take Me Home for Christmas" and "Christmas Isn't Christmas.
"The comments, the shares, the downloads, the streams, the playlisting, the radio spins, the TV, all of it," they continued. "It's been really encouraging, and has inspired lots of conversations about doing more next year (if you think we should, let us know). Hopefully, if nothing else, these songs brought a little bit of light and positivity into your world when we all needed it most."
12.26.20 pic.twitter.com/iFpvlUGf9D

— Dan + Shay (@DanAndShay) December 26, 2020
Dan + Shay also encouraged their fans to not let the magic of Christmas get away too quickly, especially now.
"Even though Christmas is technically over, we're gonna keep everything Christmas themed until New Year's Day (because why not). Feel free to keep listening and savoring the magic of the holiday season. In the meantime, we'll be working on some exciting things that we've got planned for 2021."
Dan + Shay made the holidays memorable for three formerly homeless families in Nashville, by giving them each a new home, in partnership with Safe Haven Shelter.
"It was very emotional watching these families' reactions when they saw their homes for the first time," Dan told PEOPLE. "I speak for both of us when I say it was life-changing — it put everything into perspective, and made us truly appreciate all the blessings in our life that we can sometimes take for granted."