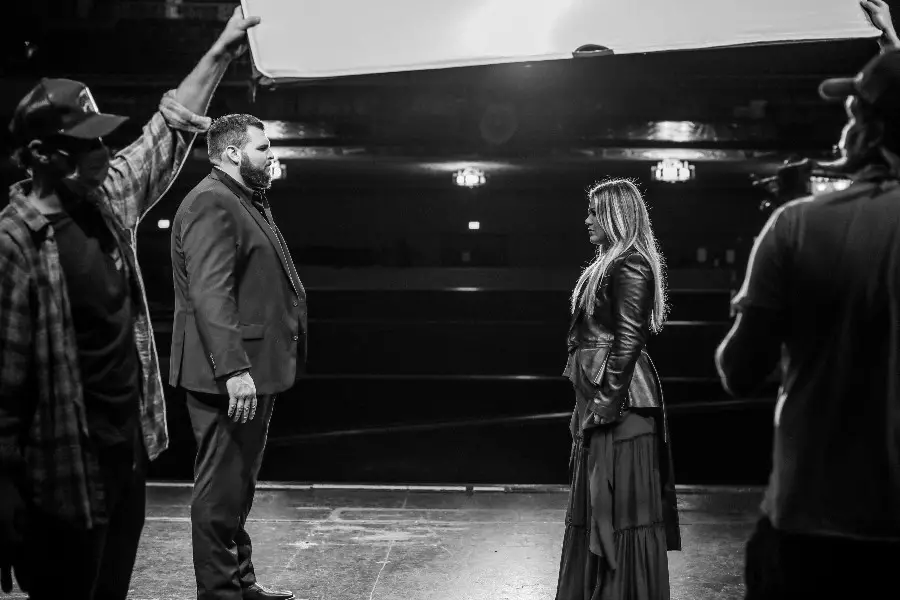 Jake Hoot's Love Out of Time EP includes a duet with Kelly Clarkson on "I Would've Loved You." The song was written by Hoot, along with Lonestar's Dean Sams and hit songwriter Jamie Floyd. Although it was the first time the three of them sat down to write together, the Season 17 winner of The Voice says the song all but wrote itself.
"I had met Dean at a welcome home concert that I did when I first got back from The Voice,' Hoot recalls to Everything Nash. "He and the rest of  Lonestar came out and played with me. We just struck up a friendship, and he would invite me over to write. And one day he said, 'Hey, I've got this really great write  happening in a couple of days. I'd like you to be a part of it.'"
That writing appointment happened to be with Floyd, who quickly blew Hoot away with her songwriting ability.
"Little did I know how great of a writer she was," Hoot shares. "We sat down and just kind of game-planned. And this song just happened. I mean, I think it took us maybe two or three hours to write the song. It was just quick; we were all pulling from personal experiences, and we were all pulling from past hurts and memories and whatnot, and it all melded together."
As soon as Hoot wrote it, he knew that he wanted Clarkson to appear on the song with him.
"When we wrote it, I said, 'I think this would be awesome if we got Kelly to sing on this,'" Hoot recounts. "When I was on The Voice, she said, 'Hey, let's do something together.' So I sent it to her, and didn't hear anything. And then later on in the year, when we were seriously considering putting this on the album,  I said, 'You know what? I'm just going to text her again,' because I had to ask her a couple of questions about other things."
When Clarkson did finally hear the song, she immediately agreed to be part of the soaring ballad.
"She called me back immediately and she said, 'I want to shout this from the rooftops. Yes, I'm in," Hoot remembers. "Like, let's get this done. And so trying to coordinate her incredibly busy schedule with mine, recording everything and then also a wedding coming up and then having to fly to LA to record, or having to send stuff out there, it just all worked perfectly."
Purchase Love Out of Time at JakeHoot.com.