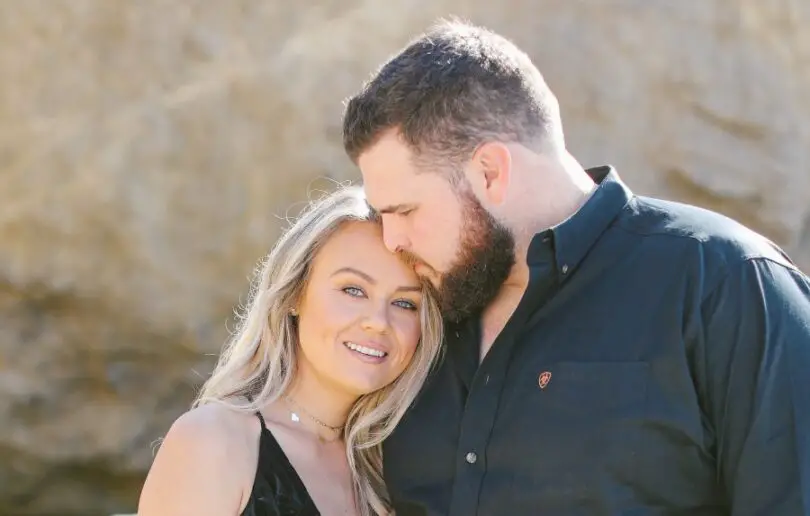 New music is on the way from Jake Hoot, and it seems to be a duet with his wife, Brittney! The Season 17 winner of The Voice shared a video on Instagram of him singing with his bride, saying, "Working on something with the Queen for y'all." Hoot captioned the video simply, "Stay tuned….."
Hoot previously revealed that Brittney would join him on his next set of tunes. His Love Out of Time EP was released last year.
"She is such a powerhouse, and we both sing kind of in the same range. So, that's going to help out a lot," Hoot told Music Mayhem, adding that they wanted a song that fit them both musically and lyrically.
"We want to sing a song that we both relate to and that we both can feel, because you're going to sing more if you can actually relate to the song," he adds. "You're going to sing more passionately with it. It's definitely going to happen, and we practice all the time."
Not only did Hoot want to sing with Brittney, but he helped write their duet together as well.
"This new song that I wrote, we're singing it back and forth. We are listening to the demo and practicing and seeing if it's something that we want to do. Whenever the album comes out, it's going to be a duet that we're going to be singing on."
Brittney has been known to get up with her husband on stage, with fans clamoring to hear more.
"We played a show at Ole Red in Tishomingo and two in Texas and at every show people were requesting Brittney to get up and sing," Hoot recalled to Country Now.. "And I said, 'Honey, I don't know that you are ready for all of this.' So the last two shows I made her get up and sing songs with me … She is such a powerhouse that she is definitely gonna be part of the album."
Hoot and Brittney got married last March, and the father of one loves everything about being married to his wife.
"It's incredible," Hoot gushed to Everything Nash. "We love it. We were just talking last night about how when we started dating was in the full swing of COVID, and everything was shut down. We just had all this good quality time together. We'd go on these long walks and wouldn't see another soul. It was just this isolated relationship that we were able to do, and just spend so much time together."
Hoot has been a fan of collaborations lately. He dropped "When Christmas Has Come and Gone" with The Tenors in November, followed by his "In the Garden" duet with fellow The Voice winner  Todd Tilghman.
"I invited him over to write, and we just got to talking 'cause Todd, he's such a down-to-earth, sweet guy," Hoot told Everything Nash of recording the hymn. "He and Brooke both are. We just got to talking, and talked through our entire session of writing. We were supposed to write. And so I said, 'Well, let's not stop here. Let's go grab something to eat. But before we go, let's record something.' And so we recorded, just a little 30-second, one-minute clip of 'In the Garden,' which is an old hymn that we both love."
Hoot's Fan Made Tapes EP was released on January 21. Find all of Hoot's music, as well as his upcoming shows, at JakeHoot.com.