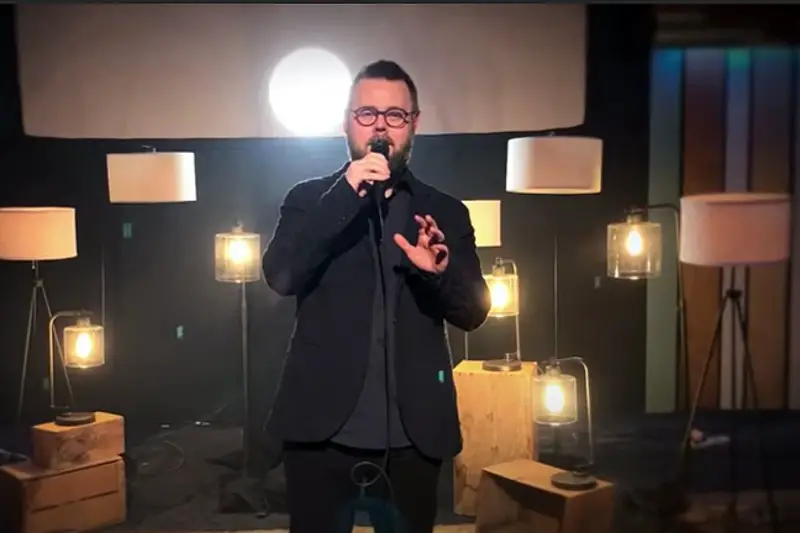 Todd Tilghman is once again showing his craft at singing diverse songs. The Season 18 winner of The Voice sang two songs live on social media, both Train's "Drops of Jupiter" and Chris Stapleton's "Broken Halos."
The new songs come as Tilghman has been performing covers on TikTok, including the Allman Brothers Band's "Whipping Post," Garth Brooks' "The Dance," Jason Isbell's "Cover Me Up," Celine Dion's "Ashes" and more.
 

Couple Songs

Posted by Todd Tilghman on Wednesday, August 11, 2021
Tilghman also hints that there will be more live performances from him in the near future. The father of eight reveals that he will soon launch a Campfire Series, thanks to a project by some marketing students at Belmont University in Nashville.
Tilghman is also working on his own original music, recently sharing two of his new songs, "Sunday Clothes and "Sandcastles," saying that the latter is one of the most personal songs he has ever written.
"Really, it's my own story," Tilghman says of the song, which chronicles when he and his wife, Brooke, almost split up early in their marriage. "It's a literal, true account of my life. The first verse is a literal true account of a Tuesday morning in my own life. It's not a whole bunch of creativity put into it. It's really what happened to me one Tuesday morning. The second verse, there's a little more creativity; I used a little more liberty. I changed the setting, I reversed the roles."
Tilghman and Brooke not only share their marital struggles, but also their journey since then, including adopting two children from South Korea and his former role as the pastor of a church, in their new book, Every Little Win: How Celebrating Small Victories Can Lead to Big Joy.
"I hope people understand that, whatever the subject matter is that we're approaching, or whatever chapter you're in, I'm not trying to say I'm right or I'm wrong, as much as I'm saying, 'This was my experience,'" Tilghman tells Everything Nash. "'This is not about the show or the church or society. This is my experience that I live.'"
Every Little Win is available for purchase here.*
*Everything Nash has an affiliate relationship with Amazon, which means we may receive a small commission from purchases made through links on this page, at no additional cost to the authors or consumers.