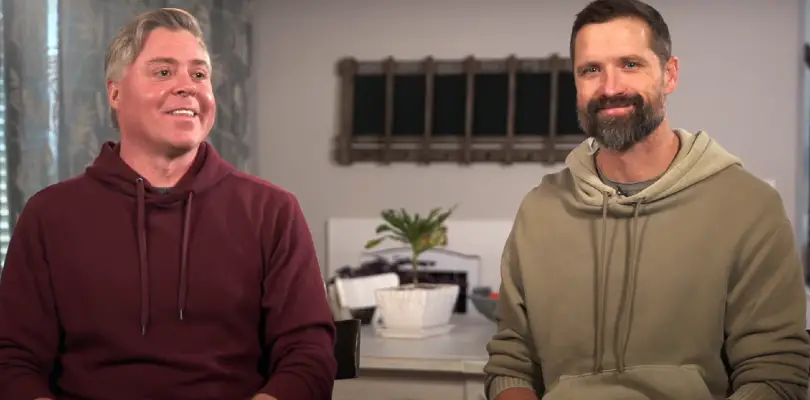 Not even Walker Hayes could have imagined where his life is right now. The father of six was an alcoholic and an atheist when he had a chance encounter with Craig Cooper, who was pastoring a church that Hayes' wife Laney wanted to visit. When Hayes walked in the front doors, he admits that Cooper would have had every reason to ignore him, especially since he was intoxicated at the time.
Instead, Cooper greeted Hayes with a warm, and genuine, "Glad you're here." Cooper's kindness towards Hayes became the meager beginnings of what has bloomed into a close personal friendship, a friendship that led to a song called "Craig," and the book, Glad You're Here.
"It's evident that this relationship is just divine — there's no way else to describe it — and it continues," Hayes tells People. "It's just crazy on a daily basis how it grows. I mean, it's insane."
It was, not ironically, early hurts people inflicted on Hayes — people he loved and trusted — that led him away from church, and any form of religion or spirituality.
"I'd been injured by a bunch of people who claimed one thing yet they hurt me, and it hurt worse because I felt like I should trust these people, of all people," Hayes reflects.
"Honestly, I experienced some freedom by one day saying I don't think I believe this," he adds. "And the more I told myself that, the more certain I was."
When Cooper met Hayes, he was beaten down both personally and professionally. After two failed record deals, the Alabama native was working at Costco, unable to afford a vehicle his family could safely ride in together. Cooper and his wife, Laura, not only walked with Hayes through his personal struggles, but also gave him a minivan.
"I see a lot of answers to prayers," Hayes now says. "We marvel when we talk about it, because it's so clear that there's something divine going on. It's lit me up, and I just stand in awe. Only God could do what has been done."
Cooper helped turn Hayes' life completely around, but the two also became next-door neighbors and close friends, writing Glad You're Here when they were quarantined during the pandemic. Even Hayes marvels at how far his life has come since Cooper greeted him with, "Glad you're here."
"Honestly, it's what Jesus wants to say," Hayes says. "To every single person who would ever come into contact with me, I just want them to hear Jesus say, 'I'm glad you're here.'"
Hayes has gone on to have a massively successful career, with his viral, Grammy-nominated, No. 1 hit, "Fancy Like." He has sold out arenas and starred in two Applebee's commercials, but says all of it pales in comparison to what he believes to be most important: his faith.
"Things are changing all the time," Hayes tells Everything Nash."Honestly, I don't care about sharing anything else. Honestly, I don't care about sharing anything else. I need mercy. We all need a lot of mercy and we need to give a lot of mercy. My only hope is Jesus. That's my message. And I think He's everybody's. And to me, there's a freeing thought that life is not the end all be all. It's beautiful, but it's gonna let us down continually until it's over. There are beautiful, beautiful things to behold in it and about it. Life isn't the answer, but Jesus is. That's my message."
Hayes will embark on his Glad You're Here Tour in September. Find music and tour dates, and purchase Glad You're Here, at WalkerHayes.com.