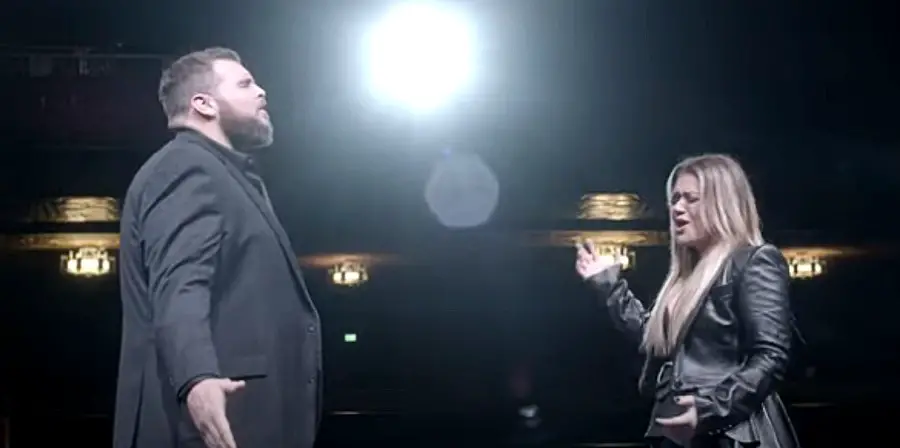 Jake Hoot and Kelly Clarkson will perform their duet, "I Would've Loved You" on The Voice! The Season 17 winner will join his former coach for a special performance of their powerful duet on Tuesday, May 18.
"It's so surreal that I get to not only sing on that stage again, I also get to sing with my coach, Kelly Clarkson, and we get to perform a song that I helped write," Hoot tells People. "I've got all the jitters and nerves from when I was there last, and I'm not even a contestant anymore! So pumped to be back, and I can't thank The Voice and Kelly enough for giving me this opportunity!"
"There is something so heartwarming about seeing these winners return home to The Voice family," adds Clarkson. "I cannot wait to reunite with Jake next week."
"I Would've Loved You" is from Hoot's debut Love Out of Time EP, released in January. After the release of "I Would've Loved You," the song topped the iTunes all-genre chart, and currently boasts more than two million streams.
Hoot wrote "I Would've Loved You" with Lonestar's Dean Sams and Jamie Floyd.
"I had met Dean at a welcome home concert that I did when I first got back from The Voice,' Hoot previously told Everything Nash. "He and the rest of  Lonestar came out and played with me. We just struck up a friendship, and he would invite me over to write. And one day he said, 'Hey, I've got this really great write  happening in a couple of days. I'd like you to be a part of it.'"
When Floyd joined Hoot and Sams, it didn't take long for the three writers to latch onto the idea of "I Would've Loved You," quickly writing the entire song.
"Little did I know how great of a writer she was," Hoot said of Floyd. "We sat down and just kind of game-planned. And this song just happened. I mean, I think it took us maybe two or three hours to write the song. It was just quick; we were all pulling from personal experiences, and we were all pulling from past hurts and memories and whatnot, and it all melded together."
Hoot sent the song to Clarkson, who agreed to sing on it as soon as she heard it. But more than just as a duet partner, the newly-married singer praises Clarkson for how much she has stayed involved in his career since his time on The Voice.
"You've got so many things going on, and the fact that you take time to reach out to people, and check on them — I know you've checked on me a few times, and just the help and stuff has been incredible," Hoot said while to Clarkson while they appeared together on the Today Show. "I can't speak to anybody else, as far as them helping people after the whole Voice experience, but Kelly's been great. The fact that we recorded this, and then she's the one who actually came up with the idea to record the music video, and so the fact that she did that as well is just amazing."