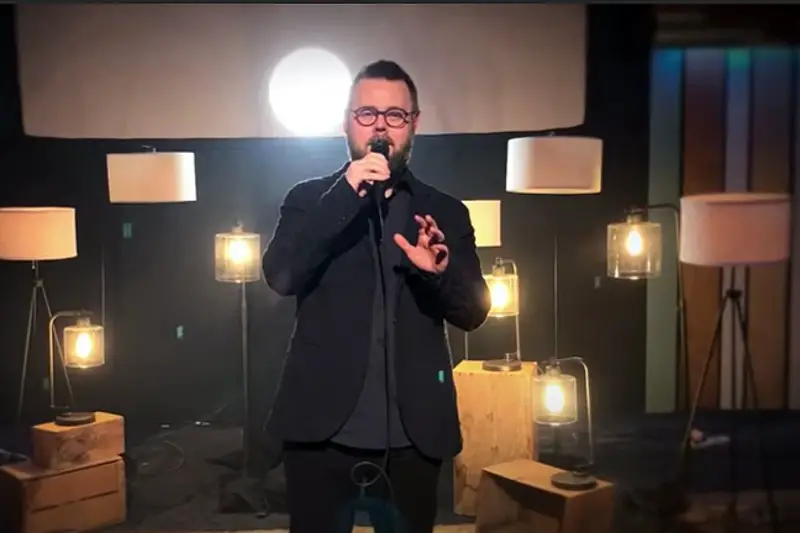 Two years ago today, on May 19, 2020, Todd Tilghman made history. It was on this day the father of eight was crowned the Season 18 winner of The Voice, when he was 42 years old, making him the oldest contestant ever to win the reality TV talent show.
Tilghman's experience on The Voice was unique also because the contestants were forced to return home mid-season, as cases of COVID-19 surged across the world. Tilghman, who made it into the Top 3 along with Toneisha Harris and Thunderstorm Artis, celebrated the victory in Mississippi with his wife, Brooke, and their eight children.
Tilghman, who was on Blake Shelton's team, had a goal of making it to the live competition, never imagining he would actually be crowned the winner.
"I never thought that I would win, but when I got to the finale is when I thought, 'Hey, I got a one in five chance,'" Tilghman told Everything Nash. "That's kind of what I thought. After my blind audition, my wife and my son and I were together, riding together back to the hotel … I was like, 'All right, babe, there is no way we're going to win this thing. So we just need to push it as far as we can.' I was hoping to get on the live shows."
Seemingly overnight, Tilghman went from being the pastor of a local church in their hometown of Meridian to becoming a household name. It was a shocking twist, which included a move to Tennessee, all of which his family handled remarkably well.
"I don't want to take too much credit," Tilghman said of his children adjusting to his new role. "We just kind of kept living our lives, aside from the move. How we do our life at home, and just the way we are, we sort of kept just living our lives the way we always did. The little kids, they don't know. They're just happy. And my baby girl, she knows the words to all my songs, 'cause even the stuff that's not released, she gets to hear and listen to herself. But they seem fairly grounded about it."
Since winning The Voice, Tilghman has been busy releasing music, including the recent "We Wrote a Story," written for his wife, in honor of Mother's Day. Tilghman's debut EP, Old Photos at Christmastime, was out in December. He also just released a six-track album Slow Down, which includes "Jesus and You," "Sandcastles," "Slow Down," "Victories," In the Garden" with Jake Hoot, and "Worth It All" with Rita Springer. Find all of his music by visiting ToddTOfficial.com.