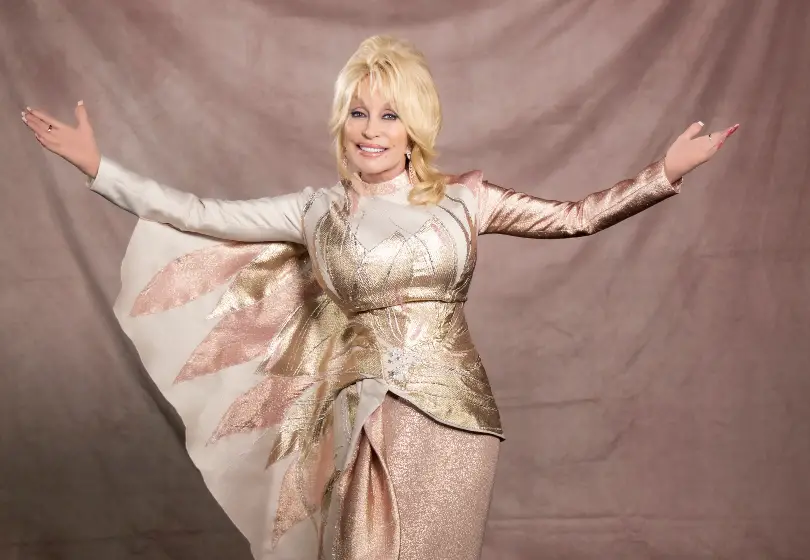 The 2022 ACM Awards are here! The show will air live tonight (March 7) from Allegiant Stadium in Las Vegas. We have all of the details on the night, including performers, presenters, nominees and more.
Hosts
Dolly Parton is hosting the ceremony, with help from Jimmie Allen and Gabby Barrett.
"I am real excited. It is always fun to do the shows. It has been a long time since I have done the ACMs, so I am looking forward to hosting that with my wonderful co-hosts," Parton tells Entertainment Tonight.
"Dolly is the most iconic and multi-talented artist of all time, and we are proud that she is a friend and supporter of the Academy, a previous host, and a 13-time Academy of Country Music Award recipient," says Damon Whiteside, CEO of the Academy of Country Music. "There is no one better than Dolly to represent the ACM Awards brand and country music on a global scale."
Perfomers
The two-hour, commercial-free show will be loaded with talent. Keep reading to find out who is performing, and what song they will sing.
Dolly Parton and Kelsea Ballerini, Run Rose Run song
"I'm gonna be doing a number in the show with Kelsea Ballerini," Parton tells People. "We're gonna be doing one of the songs from my Run, Rose, Run album,"
Thomas Rhett and Breland, "Praise the Lord"
"This is my first-ever performance at the ACMs, so you know I have to come with a lot of energy," Breland said backstage. "This song is by far the fastest tempo song in the whole performance, so I'm bringing it. I gotta bring everything. We've got a couple dance moves. I'm singing. I might sing something really high. Who knows?"
Thomas Rhett, "Slow Down Summer"
"First time ever playing it live," Rhett says. "And I'm performing a song with my buddy Breland that comes out the night of the show."
Jimmie Allen, "Viva Las Vegas" and "Let's Go to Vegas" (with Gabby Barrett), plus "Down Home"
"I'm doing an Elvis song I've never done before in my life," Allen says. "We'll see how that goes. I'm nervous about both of them, but I'm really nervous about this Elvis one."
Gabby Barrett, a cover of Lee Ann Womack's "I Hope You Dance"
Walker Hayes, "AA" and "Fancy Like"
"I'm super excited about my performance, because I get one and a half songs," Hayes reveals. "I figured they would ask for "Fancy Like," but I'm really grateful that the ACMs are giving me a little bit of "AA." I'm gonna rock the crowd with that one. It's a huge moment in my live shows. I think it will be big here too."
Brothers Osborne, "Skeletons"
"We've got a couple of things that we want to make exciting," TJ Osborne says. "We've been out on tour for a while, so we're going to try to bring some elements of that out here for television. I think it will be high energy. I think it will be fun."
Brothers Osborne and Brittney Spencer, "These Boots Are Made for Walkin'"
"Brittney Spencer, a very new, up and coming amazing artist," John Osborne says. "She has a lot to offer our genre, but most importantly, she's also from Maryland, as we are. So we're closing the show, full, 100 percent, Maryland representation on stage, closing the ACMs. That's awesome."
"Me and the Brothers Osborne, we have been working," Spencer says. "We did this really dope arrangement. I think the ACMs have already announced it. We're doing 'These Boots Are Made for Walkin'." All I can say is, it's inspired. It's lit. It's really dope. I've never done this song in a duet before, maybe to my ignorance. But I'm excited. I'm honored that I get to do it with the Brothers. I just feel like Maryland is in the house.'
Chris Young and Mitchell Tenpenny, "At the End Of a Bar"
"I don't know how much we want to give away, but honestly, this is my first time in a stadium … It's gonna be great," Young says. "Just the opportunity to get to perform our new single. I had so much fun writing this with Mitchell. I've been friends with him for a while."
"It was actually something we got to perform all on tour last year," Charles Kelley says. "It was the name of our tour, so we're pretty comfortable with it. It's just about the power of music. We all really leaned on it the past few years. It's just a fun back-and-forth song. I think it's definitely in the Lady A vain people have come to know us for.
Carly Pearce and Ashley McBryde, "Never Wanted to Be That Girl"
"We are kind of stripping it back and making it really about the vocal and about the lyrics," Pearce says. "It's going to be a really unique performance that I think will be really special.
Jason Aldean, a surprise song
"I'm told it's a surprise," Aldean teases. "But I think it's going to be cool. I've seen some renderings of what set's gooing to look like, which is cool. I think it's going to be a little different than any performance we've done before in the past, for sure. I look forward to it."
Maren Morris, "Circles Around This Town"
"I am debuting the performance of my single, 'Circles Around This Town' here at the ACMs," says Morris. "It's our first time playing it in public as a band. I'm excited. It feels like really high energy and fun and just kind of matches the Vegas-y ACM vibe. It'll be fun."
Jordan Davis with Luke Bryan, "Buy Dirt" and "Up"
"'Up' is one of my favorite songs from Luke, so to get to play 'Dirt' after that one is pretty cool," Davis says. "A couple of songs about what means a lot to us, so good pick on that one."
Parker McCollum, "Pretty Heart"
"We're playing 'Pretty Heart,' which was my first No. 1," McCollum says. "My only No. 1 for now; hopefully for not much longer. If I can't sing that one by now then I'm probably in the wrong business>"
Lainey Wilson, "Things a Man Oughta Know"
"That was the song that changed my life this past year," Wilson says. "It was like the little song that never gave up, and it's actually nominated for Song of the Year, too. I'm super nervous. I'm excited. I'm feeling all of it. This is my first year at the ACMs. I always said that I didn't want to go until I had a reason to be here, and this year I have a reason to be here."
Kelly Clarkson, a tribute to Dolly Parton
"It makes me feel great that she's going to be doing it, because Kelly is one of the greatest singers in the world," Parton tells Entertainment Tonight. "It's one thing for people to do a tribute, you know, it's going to be pretty good, but with her, you know it's going to be real good. I do love her to death. I love her personality. I just love the way she is. I have known her for a long time… so that is going to be special to me, of course."
Parmalee, Blanco Brown and Brooke Eden, "Just the Way"
Kane Brown, "Leave You Alone"
Carrie Underwood is also performing, although what she is singing remains a mystery.
Presenters
Alan Ritchson, actor (Reacher)
Derek Carr, Las Vegas Raiders quarterback,
Guy Torry, comedian (Phat Tuesdays)
James Patterson, author, (Run Rose Run)
Jason Aldean
Kelsey Asbille, actor (Yellowstone)
Luke Grimes (actor (Yellowstone)
Tom Pelphreym actor (Outer Range)
Nominees
Chris Young leads the list of nominees with seven nods. Walker Hayes, Miranda Lambert and Chris Stapleton each received five nominations, while Jordan Davis, Shane McAnally, Josh Osborne, Carly Pearce, Carrie Underwood, and Morgan Wallen each received four nods.
Both Lainey Wilson and Parker McCollum have already been declared winners, for New Female and New Male Artist of the Year, respectively. Lambert shared the good news with both of them.
"I just want to say thank you for paving the damn way … This is the best news I think I've ever gotten," an emotional Wilson told Lambert, after learning she won her first ACM Award.
How to watch
For the first time ever, the ACM Awards will stream live on Prime Video. The show will air, without commercials, from 8:00 PM to 10:00 PM ET. Click here for instructions on how to watch.