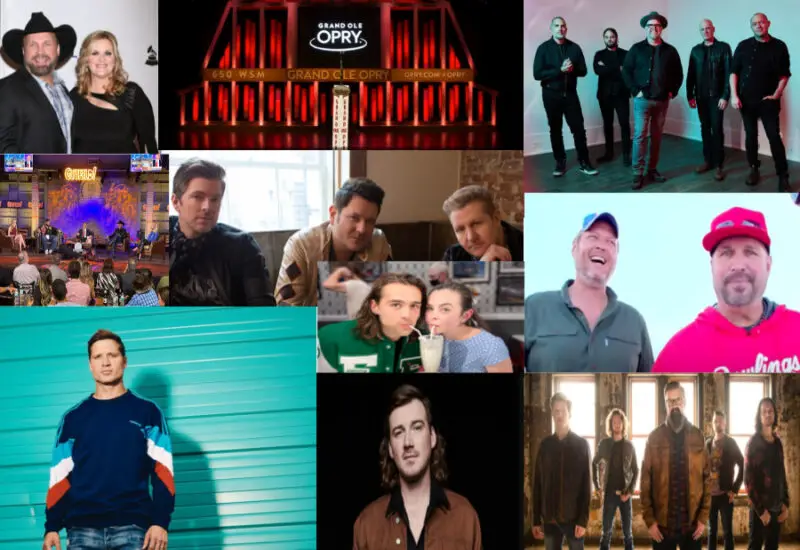 2021 was full of plenty of newsworthy stories. As the country cautiously emerged from the restrictions brought on by the coronavirus pandemic, we did our best to focus on positive, uplifting stories, which illustrated the good in the music-makers, the city, the celebrities and the world.
Our Top 10 stories of the year included a reality TV talent show winner, saying farewell to a beloved band, and two superstars who happen to be really good friends. See the list of Everything Nash's Top 10 stories of 2021 below, and click on the headline to read the story again.
Most importantly, Happy New Year. Thank you to everyone who has supported Everything Nash since our first story launched in 2020. We are grateful.
There are few acts in country music that have fans as loyal as Home Free's, and it shows. Dubbed the Home Fries, they are quick to share and retweet articles posted about the all-vocal group, and we love them for it. Also, Home Free was gracious enough to sit down with us not once but twice this year (here and here) to talk about new music. There's probably not a group of nicer, or more talented, people than Home Free, which is why everyone wanted to know more about the five guys who make up Home Free.
Chevel Shepherd enlisted  Netflix's Julie and the Phantoms actor Charlie Gillespie to star in her video for "Good Boy." The Season 15 winner of The Voice included the song on her Everybody's Got a Story EP, which is filled with the traditional country music sounds she grew up on, including Loretta Lynn, and still loves today.
"I love Loretta," Shepherd told Everything Nash. "She's definitely one of my favorites. I look up to her as a musician and as a person. She's always stayed true to herself, and never strayed away from that. And then I look up to Tanya Tucker, Gretchen Wilson, The Chicks. I look up to all of them."
Rascal Flatts  shocked fans when they announced in early 2020 that they were embarking on their farewell tour. While it was later revealed that it was band member Joe Don Rooney who wanted to bid farewell to the trio, at the time fans were eager to at least see the threesome one more time, on their Life Is a Highway Tour. Unfortunately, the COVID-19 pandemic derailed those plans, and rescheduling the tour has yet to happen, although Jay DeMarcus did offer hope that it could happen in the future.
"The short answer is, there is nothing in the works as of right now,"  DeMarcus told Big Machine Label Group in April. "You know, unfortunately, we were supposed to have retired and then everybody committed to other things this year. Gary's got some solo projects coming out. So, I can't imagine that we won't at some point in time – I don't know when that will be – try to go out and say goodbye properly."
Only a couple of weeks before made headlines of a different kind — when he was caught on video uttering a racial slur —  Morgan Wallen's story of an abrupt career switch resonated with country music fans. The Tennessee native had plans to pursue baseball full-time, and was well on his way to achieving that goal, when an elbow injury permanently derailed those plans.
"It was hard," Wallen admitted to to Nashville Lifestyles. "I was devastated because I'd put so much time and effort into baseball. So, I started writing songs and playing guitar. It was a way to help me get my feelings out and just to keep my mind occupied and to say the things that I wanted to say. By the time I was about 19 is when I really started growing the love for music that could be my music."
There are apparently plenty of Fox News fans in Nashville, or at least fans of Greg Gutfeld. The TV host brought his Gutfeld! show to The Listening Room Café in downtown Nashville for a week of shows, which all sold out in under five minutes.
"We knew we wanted to do the show where the live audience would have so much energy that they would become part of the program, almost like a 6th guest," FOX News Channel's Gutfeld!'s executive producer Tom O'Connor tells Everything Nash. "We figured what better place to do that than The Music City. Nashville is also among the highest-rated markets for Gutfeld! so it was a natural decision to bring the show here."
John Rich and Kathie Lee Gifford were among his guests throughout the week.
This story was originally posted in June of 2020, yet continues to reach readers 18 months later. In an interview with Walker Hayes, as the COVID-19 pandemic was shutting things down all over the country, the singer-songwriter offered words that became a balm so many of us needed.
"Humanity cannot fix humanity," Hayes told us. "Just look at history. We've had phenomenal people make leaps and bounds and efforts, and make glorious speeches and say amazing things. A quality has just changed obviously, for the better, over the years. But as you look at what's going on right now, I think just the constant failure of humanity to fix itself is just powerful evidence to me that we need Jesus Christ. There's a lot of people that the Lord can impact through me."
If there is a first couple in country music, it's Garth Brooks and Trisha Yearwood. The two share their love story in interviews and social media, as well as through their music. The superstars have both had successful careers on their own, but actual magic happens when they combine their talents. We looked at five of their biggest duets.
MercyMe's former crew member Gary Miracle underwent a devastating loss, which inspired the group's hit single, "Say I Won't." Miracle fell ill, which resulted his body going into septic shock. As a result, Miracle lost both his arms and legs, but managed to keep his spirit intact, thanks in large part to his wife, Kelly.
"Whatever God's got for me, I just want to be faithful, and walk down that path knowing, believing and trusting that He is good," Miracle said in a video posted on social media. "This was His plan and everything's going to be okay. And if along the way my fight and my drive can inspire you to walk through a difficult season of your life, then I'm all in.
"I don't know that I could have done it without her," he added, referring to Kelly. "Her faith and determination is a huge part of my story."
Not only did this story resonate with readers all over the country and beyond, but it was also one of the most-commented stories of the year. An earlier version of the story was posted earlier this year, listing Carly Pearce as one of the artists who should have already become a member. Since that, thankfully, happened in 2021, we revised the list, which includes Scotty McCreery, Luke Bryan, Alabama and more.
Garth Brooks earned two spots on our Top 10 list, also taking the top spot, this time with Blake Shelton. It was Brooks who reached out to Shelton personally to ask if he would sing "Dive Bar" with him, praising Shelton for who he is as an artist and a person.
"He is the least 'celebrity' guy you'll ever meet," Brooks told American Songwriter. "If you can't find him, it's because his phone is on silent and he's duck hunting or he's in a blind or he's out fishing. He's just the most regular guy on the planet. It was fun to get to hang out with another artist who wasn't worried about what was coming out of his mouth."