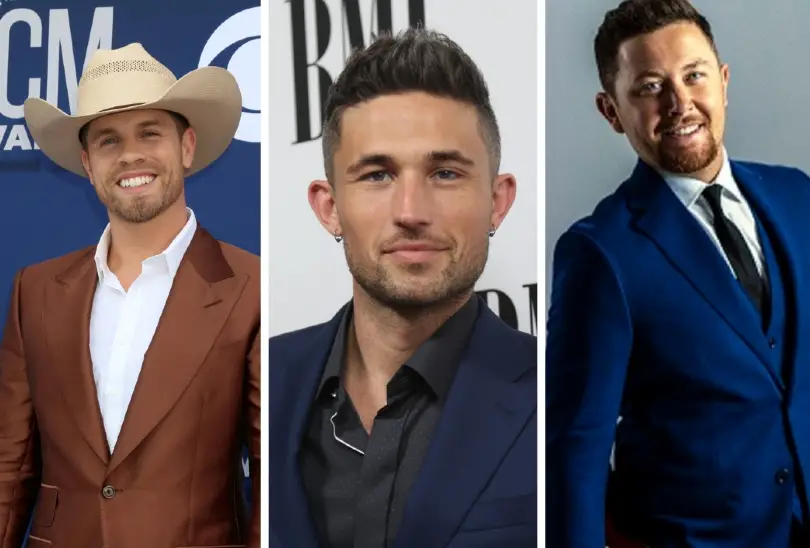 The 2022 ACM Awards nominees are out, and while there were plenty of happy surprises, like Chris Young receiving seven nominations, or Walker Hayes receiving five, there were also a few artists that were inexplicably left off this year's list. Keep reading to find out who should have been nominated, and why.
1. Dustin Lynch 
Not only was Dustin Lynch not nominated for an ACM Award, but he has yet to receive a single ACM Awards nomination, ever. It would almost be comical, the way the Academy of Country Music seems to ignore him year after year, if it wasn't so unfair. But this year, Lynch celebrated a six-week No. 1 hit, with "Thinking 'Bout You," his duet with MacKenzie Porter, and although that technically fell after the November 15 cut-off date for eligibility, Lynch had a killer 2021, and deserved to be recognized.
2. Michael Ray
Michael Ray has only been nominated for one ACM Award, for New Male Artist of the Year in 2018. Ray's career has been on a steady incline for years, but 2021 saw Ray enter a new level as a country artist. The Florida native released his Higher Education EP, an impressive collection of songs that included "Picture," "Just the Way I Am," and Lee Brice, ZZ Top's Billy F. Gibbons, Tim Montana and Kid Rock on the title track. Ray also had a two-week No. 1 hit with "Whiskey and Rain" from the record.
3. Scotty McCreery
Scotty McCreery also only ever received one ACM Award nomination, for New Artist of the Year, in 2011. Since then, McCreery has had a string of hits, with four consecutive No. 1 singles, including "You Time," from his latest Same Truck album.  McCreery has worked hard — really, really hard — since his time on American Idol, and it's time his hard work was acknowledged.
4. Mickey Guyton
The fact that Mickey Guyton wasn't nominated hurts — a lot. Guyton has had an unforgettable year, including her first Grammy Awards nominations. Guyton is nominated for a Grammy for Best Country Album, with Remember Her Name, as well as Best Country Solo Performance and Best Country Song for the title track. Guyton also co-hosted the 2021 ACM Awards last year with Keith Urban, which seemed like a prelude to a promising future with the Academy of Country Music.
5. Lee Brice
Lee Brice won two ACM Awards last year, both for his "I Hope You're Happy Now" duet with Carly Pearce . Before that, he hadn't been nominated in six years, but we hoped that his recent double-win would mean he was back to being nominated. Brice's 202 Hey World album included "One of Them Girls," a song that made history by being named Country Song of the Year by BMI, ASCAP and SESAC, as well as "Memory I Don't Mess With." Not having Brice's name in the list of nominees is a glaring omission.
6. Russell Dickerson
Where is the Russell Dickerson love? Dickerson has been nominated twice, including two separate times for New Male Artist of the Year, but has yet to receive a win. Dickerson's Southern Symphony album, releasd in late 2020, included his No1. hit, "Love You Like I Used To," as well as his current single, "Home Sweet." Dickerson works hard — really hard — and deserved to be recognized.
7. Carrie Underwood
Carrie Underwood is nominated, four times, but she deserved more. Underwood, fortunately, is nominated for Entertainer of the Year, along with another female nominee, Miranda Lambert, and Eric Church, Luke Combs and Chris Stapleton. Underwood's My Savior album, although not country, came out in 2021, and she slayed her performance of medley hymns at last year's ACM Awards. Underwood also received three nods for her "If I Didn't Love You" collaboration with Jason Aldean, but it feels unfortunate to not have her included in the Female Artist of the Year category.
8. Luke Bryan
Luke Bryan is the reigning ACM Entertainer of the Year, but he wasn't even nominated in that category — or any other category that didn't involve his "Buy Dirt" collaboration with Jordan Davis. Bryan's Born Here Live Here Die Here album, out in 2020, included two recent No. 1 hits, with "Down to One" and "Waves." Not to mention his successful, largely sold-out Proud to Be Right Here Tour. Bryan definitely deserved more nods than what he got.
9. Blake Shelton
Blake Shelton didn't receive one nomination this year, which is unfortunate. Shelton's Body Language album was released last year, which included the hit singles "Minimum Wage" and "Come Back as a Country Boy."  The record also included his "Happy Anywhere" duet with Gwen Stefani , which didn't receive recognition last year either, in spite of landing at No. 1. It's unfortunate, and unfair, for Shelton.
Dolly Parton will host the ACM Awards ceremony, along with Jimmie Allen and Gabby Barrett. The 2022 ACM Awards will stream live on Prime Video Monday, March 7 at 8:00 PM from Allegiant Stadium in Las Vegas.